User Access

SciCRM is designed with simple, powerful roles to allow maximum efficiency with the least headaches. Three roles have been defined and created for administrators to decide what users can see or do.
Basic User
The basic user can only see deals, contacts, and leads that have been assigned to them or that they have created.
Manager
Managers have the ability to view deals, contacts and leads that have been assigned to them or that they have created as well as anyone in their team.
Executive
Executive users have the ability to view deals, contacts and leads system-wide. There are no restrictions on Executive users.
Sales Team Management
SciCRM improves efficiency by eliminating redundancy and confusion. Organize all of your company's contacts efficiently and share them with the appropriate teams. No more scrambling to find a phone number or track down a contact.
Sharing
Team members are meant to work together. SciCRM enhances this ability by keeping everyone on the same page. Share or re-assign deals with ease. Use the conversations section of a deal to keep everyone in the know.
Assigning
It's easy in SciCRM to share information or setup an appointment with someone else. Create a task or event and request a co-worker to join you. Or assign a task or event to someone else within your team.
Pipeline Management
SciCRM focuses on usability. This means we've cut the clutter out to provide a lean, efficient CRM without unnecessary complexities. The insights we provide will help increase your business flow.
Modules
With the modules we provide on your dashboard you can quickly navigate to any activity. Managers can monitor team level deals and Executives can see company wide deals.
Charts
SciCRM incorporates stunning dynamic 3D charts to help you visually see where you stand at any point in time. Six charts are provided to help you quickly see key metrics.
Email
Each morning SciCRM delivers a Morning Report to your email inbox. This report will provide a brief overview of the previous day's highlights as well as a heads-up for events and tasks planned for that day.
Contacts & Leads Management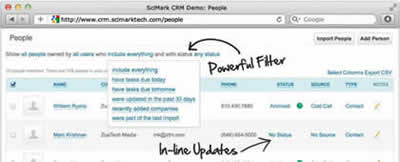 The heart and soul of a CRM is the contact and lead management. SciCRM helps you effectively track, manage and organize your leads. Turn your leads into contacts faster with the tools we provide.
Leads
With SciCRM you can define your own sets of lead sources. This will help you quickly see your most effective channels and capitalize on them to help grow your customer base.
People
Filter your lists of people by a variety of options. See statuses and manage relationships efficiently using color-coded labels.
Custom Forms
SciCRM lets you create lead and contact forms, including custom fields, through an easy-to-use Form Wizard and then publish those forms anywhere on the web.
Lead Forms
SciCRM will generate HTML that can be copied and pasted anywhere on the web, within your website, within a module, or content item or any where else on the web. When users submit the form the data is entered directly into your CRM.
Custom Redirects
Once a user submits the form you can add the URL that you wish for them to be redirected to automatically. Send them to a thank you page, or redirect them to specific content or other website. It's easy.
Custom Fields
You can even incorporate custom fields directly in the forms you create. You'll be amazed how easy it is to bring fresh data into your CRM.
Mobile CRM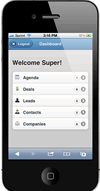 In the world today more and more sales are happening "on the go". SciCRM is there to help. With SciCRM you have instant access to your sales information from any mobile device. SciCRM works with iPhone, Android, and Blackberry web browser as well as most any mobile device.
App-less
Instead of having unique applications that have to be updated independently SciCRM employs the latest web technologies to deliver a clean, dynamic, and always updated experience. No apps to download or update. Log in to your Joomla! site and go directly to your CRM.
Custom Reports

SciCRM uses a simple interface to generate custom reports dynamically in a matter of seconds. Plus, we've added six common reports that can be run with a single click. Most companies won't even need to create additional reports.
Layout Options
SciCRM allows you to select the columns and fields you want displayed on your report. Quickly update a report by dragging and dropping the columns you want to use.
Newsletter Integration
SciCRM integrates the NGRPulseMail (email marketing component) to allow you to quickly subscribe your leads & contacts to lists, see what newsletters they've opened and track the links clicked.
Newsletters
SciCRM allows you to see the newsletters that each contact or lead is subscribed to as well as select new lists that you wish them to be a part of.
Emails & Click-Throughs
Quickly see what emails your lead or contact has opened as well as what links they have clicked within each email directly from their profile page within SciCRM  It's a seamless integration that will show you an incredible amount of detail.
Customization
We work hard to provide a robust CRM platform that should work out of the box for 90% of all companies. However, SciCRM allows everyone to make the system work the way they do. SciCRM directly blends into your website.
Custom Fields
Add custom fields to deals to help you track the things that are important to your business. Customize the various fields already in the system easily through your administrator page.
Themes
SciCRM makes it easy for you to blend it with the rest of your site. Select a color scheme that fits your company colors or website branding.
Email Integration
We realized that your email inbox has become the center of your online life and more than likely your CRM as well. SciCRM allows you to integrate those emails into your system and associate them with the appropriate contact, or deal with very little effort.
Tracking
Whenever you send an email to a contact, add your predefined SciCRM email address as a BCC and your email will be attached automatically as a note to your contact within the system. Receive an email from a contact? Just forward it directly to your SciCRM email address for it to also be included.
Documents
SciCRM handles documents as well. Whenever you BCC your SciCRM email address on an email you send to a contact SciCRM will save a copy of the attachment as a document and assign it to the correct contact or lead.
Sales Goals
Tracking goals has never been easier. SciCRM employs team-based goal creations to help motivate and rally your team. Achieve greater results by encouraging friendly competition
Goal Types
We've created six common goal types that make it easy for individuals and teams to create competitive goals.
Leaderboards
Take goals one step further by tracking individual progress on a leaderboard. Add a leaderboard to your SciCRM dashboard and increase your team's competitive drive.
Deal Management

With SciCRM you can track all of your deals and their progress. No more wondering what stage a particular deal is in. By knowing exactly what stage a deal is you can close more of them.
SciCRM organizes every aspect of deals so that you can see the big picture and track the smallest detail too.
Notes
SciCRM lets you take notes on every deal to keep track of every action and every step taken. Quickly and easily add ideas and notes to any deal.
Tasks and Events
SciCRM provides integrated task and event tracking so that you can organize important dates related to each deal.
Scroll