Deliver Personalized Customer Experience with Marketing Automation
The biggest challenge for marketers who need to engage a large number of leads or customers is how to deliver the right message at the right moment to every single contact. Marketing Automation provides marketers with powerful tools to nurture leads, deliver complex campaigns, guide customers to purchase and engage clients with relevant content.
The Right Message, the Right Time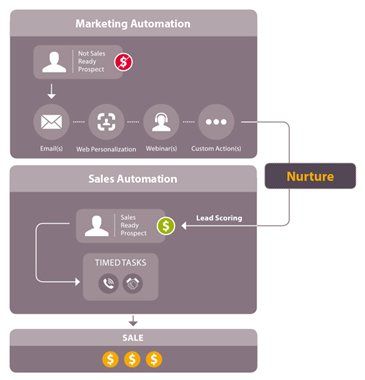 As the customer goes through multiple stages during their life cycle, you need to deliver them the right content or initiate sales activities. And you need to do that in a highly personalized way so that you don't sound like a robot. Marketing Automation allows you to do just that. Typical scenarios when you use Marketing Automation include:
Lead nurturing - deliver engaging content to prospective clients as they go through their purchase process to make sure you stay at the top of their minds and establish yourself as an expert in what you offer.

Complex campaigns – create truly interactive campaigns where the next step is decided based on previous customer reactions to your communication.

Buyer guidance - guide buyers on their way to purchase whether you need to remind them about unfinished check - out process or whitepaper they requested but never downloaded.

Engage existing clients - automate customer onboarding by providing them with useful tips and educate them how to get the most out of your products or services.
These and other scenarios will help you increase your marketing effectiveness and increase the ROI of your campaigns.
Fully Integrated Solution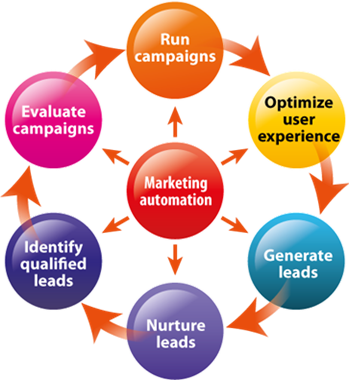 While there are other marketing automation tools on the market, NGRPulse EMS provides a fully integrated solution that combines:
Powerful content management - manage website content, blogs, landing pages, whitepapers and media files at one place.

Contact tracking and management - learn everything about who your individual customers are and how they interact with your communication.

Lead scoring - identify hot leads and nurture those who aren't ready for purchase yet.

E-mail marketing - send personalized e-mail campaigns to chosen segments of customers.

Segmentation and personalization - segment customers based on their attributes and behavior and provide them with a highly personalized experience.

Campaign management - track all your campaigns and their ROI.

Web analytics - see where your site visitors come from, what they are doing on your site and what content they like most.

Conversion optimization - use A/B testing or MVT testing to optimize your landing pages and e-mails.

Social media integration - automatically publish to Facebook or Twitter and execute social media campaigns with CMS-powered Facebook pages and applications.

Mobile marketing - deliver consistent messages in different formats depending on customers' context.
Get Instant Marketing Results with NGRPulse EMS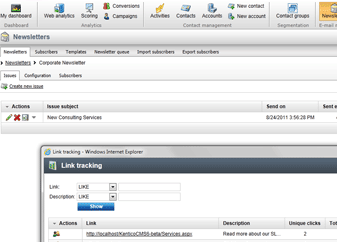 For marketers who require an integrated customer experience management solution, NGRPulse Enterprise Marketing Solution is the answer for optimizing your website and achieving higher campaign ROI.
All You Need to Manage Customer Experience across Multiple Channels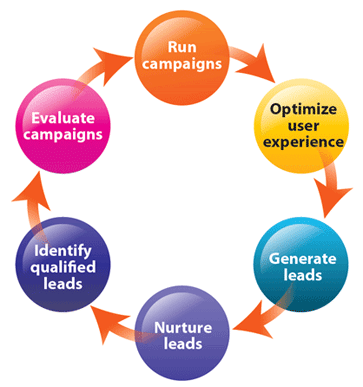 NGRPulse Enterprise Marketing Solution (EMS) is an integrated Customer Experience Management (CXM) solution that extends the NGRPulse Ultimate Edition with additional enterprise and marketing features. It empowers marketers to deliver and optimize real-time customer centric marketing across multiple channels.
Unlike other CXM products, NGRPulse EMS doesn't require overly complex configuration and delivers results almost instantly. It provides a complete on-line marketing solution fully integrated with CMS which means you don't have to use several applications and spend money on painful integration. It gives you a unified view of your marketing activities and customer data.
Reach Existing and New Clients with E-mail Marketing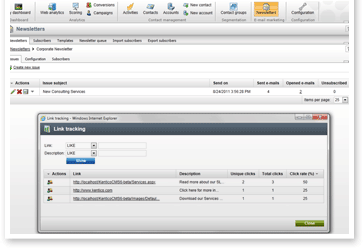 The improved E-mail Marketing functionality provides all features required to effectively manage e-mail newsletters and campaigns and track subscriber activities.
The improvements include:
open e-mail tracking – who opened your e-mail
click-through tracking – who clicked which links
bounced e-mails monitoring – identify invalid e-mail addresses and automatically block subscribers
double opt-in – require e-mail address confirmation before subscription
faster and more stable sending of large number of e-mails using an external Windows Service and multiple SMTP servers
and others
SciCRM: Customer Relationship Management Software for next generation marketerst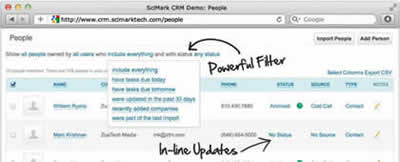 Organize your contacts and manage your relationships with the people you interact with. More than just a simple address book, our contact management features give you a tailored area to keep track of all your customers and contacts. Quickly see what products your customers purchase from you and how often. Easily track notes of communications with your contacts and never forget key dates like birthdays and anniversaries.
Lead Management: Finally, a centralized marketing database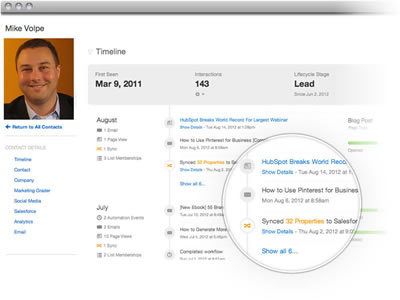 For years, marketers have lacked a single, centralized database. We've had to manage multiple lists, and put up with the need for constant downloading, merging, deduping, and uploading. With NGRPulse, you'll have the most scaleable, powerful marketing database ever created. No other system lets you maintain and work with all this data. It's the only database you'll ever want or need.
Lead Intelligence Timeline: Track every page view & form submission for each and every lead.
Social Media: Automatically look up and track social interactions.
Custom Fields: Create, capture & upload custom fields.
Smart Lists: Build dynamic segments based on each and every field, download, and event.
Get Insights into Visitor Needs with Web Analytics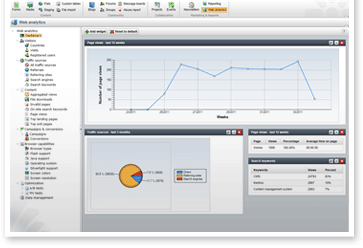 Measurement is the key to ensure the success of your digital marketing. With the improved Web Analytics module, you can easily:
track visited pages
monitor campaigns, conversions and referring URLs
identify landing pages, exiting pages and time spent on page
analyze visitors by countries, browsers and other details
Measure Campaign Results and Maximize Your ROI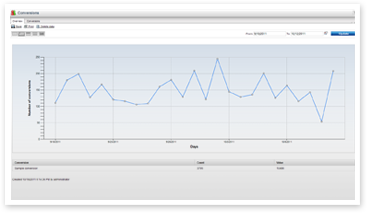 Why waste your marketing dollars? Let NGRPulse EMS help you make smarter investments based on real results. With Campaign and Conversion tracking, you can easily evaluate results of your campaigns and compare them to costs. You will immediately know which campaign is profitable and which should be terminated.
Get 360-degree View of Visitors with Contact Management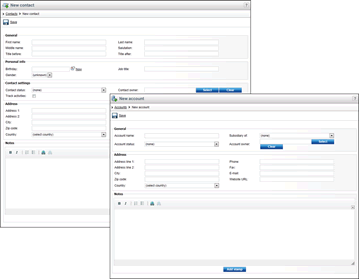 NGRPulse EMS comes with new Contact Management module that tracks all activities of visitors on your site, both anonymous and registered. Visualize your real time customer information in a single location. You can use this data for personalization of website content, lead nurturing, campaign optimization and other marketing activities.
Optimize Your Website and Increase Conversion Rates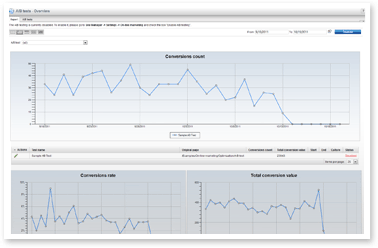 The new A/B Testing and Multivariate Testing modules allow you to quickly test several versions of the page and identify copy and graphics that leads to most conversions, such as sales, submitted forms, whitepaper downloads and others.
Unlike Google Optimizer and similar external services, NGRPulse provides marketers with a fully integrated solution that allows them to conduct tests without technical knowledge and see the results instantly.
Identify Customer Segments and Deliver Personalized Content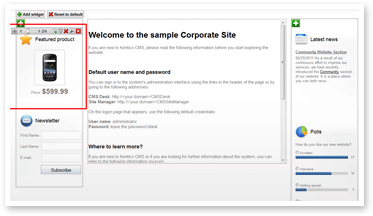 Customers come to your website with different needs. Identifying and addressing those needs will allow you to deliver a better customer experience and increase your ROI.
NGRPulse EMS comes with Segmentation and Personalization engine that automatically serves the most relevant content to the visitors based on their:
demographics – location, age, position and other contact attributes
behavior – visited pages, campaigns, purchased products, downloaded documents, etc.
A powerful rules engine enables marketers to define customer segments and which content will be delivered to each segment – all without programming. Using multiple types of criteria you can make the segments as granular as required.
Make Your Sales Team More Productive with Qualified Leads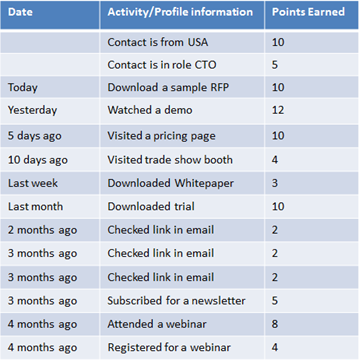 If your website generates thousands of leads, your sales team may waste their time going through the long lists of people with fake names and invalid phone numbers. Using the Lead Scoring module, you can easily identify hot leads and make your sales team more productive.
Since NGRPulse EMS provides you with detailed data about every visitor, you can set up rules that identify the visitors who are most likely to become your clients based on their profile attributes (have corporate e-mail address, company name and phone number) and behavior (came from particular campaign, visited chosen pages, downloaded more than 3 whitepapers, etc.). For every rule you specify, the lead gets points towards particular score ("Hot lead", "Prospect partner", etc.)
Marketing Automation: A better way to nurture your leads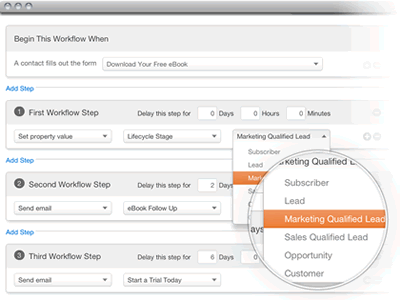 As a marketer, your most valuable asset is your marketing database. But your database is only as powerful as you make it. NGRPulse makes it easy to build targeted segments and workflows based your contact information, lifecycle stage, and behavior -- which in turn lets you nurture them effectively through your entire sales and marketing process.
Segments: Use smart lists to create targeted segments and automatically nurture them.
Email: Trigger emails based on downloads, property changes, pageviews, or clicks.
Update: Use workflows to update contact properties and add or remove leads from lists.
Score: Create customized lead scores based on lead activity.
Scroll